Bridging Specialties™: Timely Diagnosis for ILD
Quality Improvement Demonstration Project
CHEST invites interested applicants to submit proposals for deploying a quality improvement (QI) demonstration project in support of the goals of Bridging Specialties: Timely Diagnosis for ILD, a program developed by CHEST and Three Lakes Foundation to reduce time to diagnosis for patients with interstitial lung disease (ILD) such as pulmonary fibrosis.
Up to two awards of $150,000 each are available.
Deadline: Monday, August 14, 2023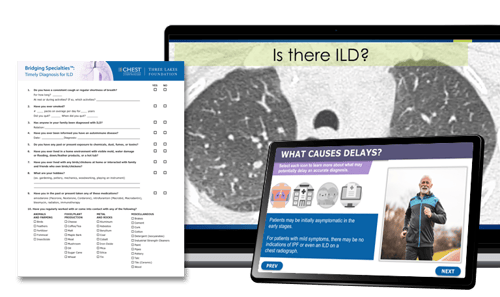 In January 2022, CHEST and Three Lakes Foundation launched a collaborative initiative to leverage the combined strengths of different specialties to tackle a shared goal: shortening the time to diagnosis for ILD.
The Bridging Specialties: Timely Diagnosis for ILD Steering Committee—comprised of leading pulmonologists and family physicians—created an educational toolkit consisting of e-learning modules, a downloadable patient questionnaire, thoracic radiology videos, interactive decision-making tools, and game-based learning.
The purpose of this request for proposals is to improve physicians' ability to identify, assess, refer, and coordinate care of patients with suspected ILD to ensure timely and accurate diagnosis to improve outcomes and quality of life.
CHEST seeks to address gaps in knowledge among primary and specialty care clinicians by testing the use of the ILD toolkit assets and resources in practice.
Specifically, CHEST is interested in applicants who can demonstrate the ability to access the educational resources available within the toolkit, apply them in encounters with patients, and collect data to help inform the impact of the toolkit in shortening the time to diagnosis while also evaluating treatment outcomes through coordination with specialty care.
Applicants will be required to summarize their capacity for implementing a QI project through describing:
Plan for implementing

the

toolkit/resources in practice

Gaps that will be addressed through implementation of

the

toolkit/resources in practice

Process for collecting outcomes data, including approach, methodology, a

nalysis, and

reporting (

with

preference given to outcomes related to system improvement, clinician

behavior, and patient outcomes)

Impact the proposed

QI

project will have on improving health outcomes for historically

marginalized populations

Potential bar

riers that may be encountered and plans to overcome them

Timeline and key milestones for

QI

implementation

Plan for disseminating results

Plan for sustaining

the

project beyond

the

funding period
In addition, a CV and two support letters from hospital leadership (administrator, clinic director, or others) must be provided.
Projects will run for 12 to 18 months and will require quarterly progress reporting and periodic grantee meetings to share preliminary findings, discuss any obstacles encountered and plans to overcome them, and network with fellow grantees. Findings from the QI projects will be disseminated and will be used as a guide for scaling in other health care environments.
Applicants must be based in the United States and in good standing and accredited by an official accrediting agency.
Deadline: Monday, August 14, 2023
If you have any questions about submitting an application, please contact Terri Horton-O'Connell, Director, Grant and Proposal Development, at thorton-oconnell@chestnet.org.